<- Back to Rainbow Bridge
Graham (was Marley)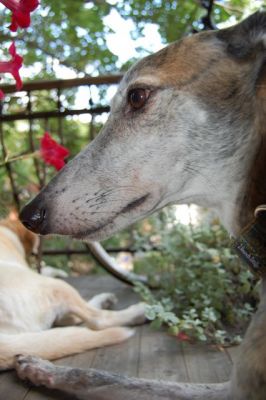 Graham's new Mom writes:
Hi there,
Marley is doing just great, although his name is now Graham. Graham Rabbit Riggins McGrey, to be exact, but that is quite a mouthful, so we just call him Graham. He took to his new name almost as quickly as he took to the couch. It hasn't quite been a week since I adopted him, but it feels like this boy has been here forever.
I live in a third-floor walk-up on the Plateau in Montreal, so the first order of business was getting Graham into the house. He was very shaky on the stairs the first couple of times and I literally had to move him up paw by paw, supporting his back end the whole time. But he soon grew weary of that business and on the third attempt, he bunny-hopped up all by himself. Down is another story and I am still giving him a good amount of support. The biggest problem with down is that he just wants to get it over with so quickly that his legs get all discombobulated underneath him, but he is getting better and better each time he does it.
Every day, a little more of his personality comes through. He is very sociable and quite the character. There are a few spots in the neighbourhood that he continually tries to visit: the pub, the dry cleaner, the barbershop. Of course, the people who work in those places all greet him when he makes for their doorways, so he's learned quickly where to get the loving.
Graham loves his Lab-X sister Sophie and I'm certain he will tell her all about counter-surfing, which she will no doubt find quite rewarding after 10 years of being completely oblivious about that. He also loves Sophie's stuffies and made sure to test every one for their squeakability.
There is no question that Graham is the boy for me. I just wish I could have taken Ronda too. Someone please adopt Ronda!!!! She is a doll.
Thanks to everyone for helping me find Graham (Marley)
All the best,
Sherry
(the first batch of pictures are Graham at home, the last batch are from his "Gotchya Day")
------------
Marley is a big mellow boy, well behaved yet playful - he loves to lean in for affection!
Registered Name: Valita
Sex: Male
Color: Brindle
Right ear tattoo: 55A
Left ear tattoo: 32460
Birthday: May 5th, 2005
Arrived at NGA: Sep 30th, 2008
Date this dog passed on: Dec 16th, 2009